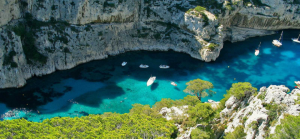 Why not enjoying a little boat tour in the Calanques between Marseille and Cassis?
This is the Massif des Calanques, a national park combining land and sea. It's an area of outstanding natural beauty and one of the most breathtaking places you'll visit.
The Calanques are fjord-like inlets puncturing the rocky coastline. The most remarkable ones lie between Cassis and Marseille. Views and landscapes described as 'stunning', 'breathtaking', 'impressive'  ! So why don't you come and see by yourself?
Embark on your private boat in Cassis or in Marseille and enjoy a tour including lunch onboard. Many different options. Do not hesitate to contact us, we will be very happy to give  you more information !
contact@provenceriviera-dmc.com